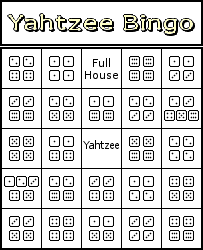 Overview:
Combines the classic games of Yahtzee and Bingo.
Items Needed:
• A printed Game Board for each player
• 5 Dice (regular 6-sided dice numbered from one to six)
• About 20 tokens for each player
(like pennies, poker chips, or paper cut into 1" squares)
How to Play:
A player rolls the dice and decides which dice to leave as rolled. The player rolls the remaining dice and again decides which dice values to keep. The player may then roll any of the dice a third time. If the results of the dice after the final roll match an uncovered square on the player's gameboard, the player places a token on the matching square. The dice pass to the next person who gets 3 rolls. The first player to cover 5 squares in a horizontal, vertical, or diagonal straight line is the winner.