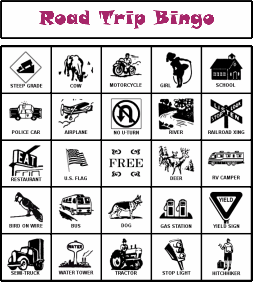 Overview:
A bingo style game where players compete to find various items while traveling down the highway.
Items
Needed:
• A printed Game Board* for each player
• A pencil, pen, or crayon (to mark off items as they are found)
How to
Play:
Each player should have a unique game board. Once the game starts, players look for the items on their game sheets. The first player to see an item "calls" the item and marks it on his or her sheet. The other players must find that item again before they may claim it. The first player to have five marked-off squares in a horizontal, vertical, or diagonal straight line wins. For longer trips, you may wish to play the "blackout" version where players try to find all the items on their game sheets. The first person to mark off all 25 squares is the winner.