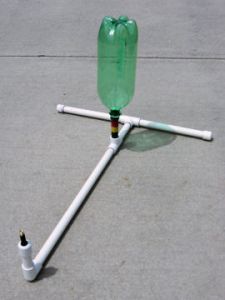 Assembled Launcher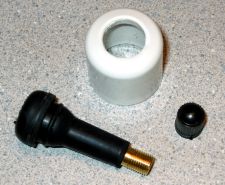 Valve Stem and End Cap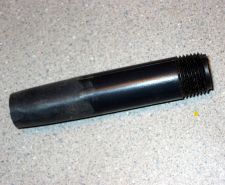 Riser with Taper

Click here to see the
Launcher in Action
Overview:
The 2-liter soda pop bottle launcher uses water and air pressure to send bottles over 100 feet in the air.
Items
Needed:
• 2-liter Soda Pop Bottle - must be undamaged and free of
kinks. Also, green bottles are easier than clear bottles to
track as they are flying through the air.

• Tire Pump with built-in Pressure Gauge

• Water - need between 1 and 1½ liters per launch.

• Bottle Launcher - see the detailed assembly instructions
for building your own bottle launcher from PVC pipe.
Launch
Operation:
1) Fill the 2-liter bottle with water until it is between 1/2
and 2/3 full.

2) Turn the bottle over fitting it onto the riser. The bottle
should have a firm seal on the riser, but it should not be
on too tight.

3) Have people and pets back away 10 or more feet from
the launch area.

4) Using a tire pump attached to the launcher's valve stem,
pump air into the launch system.

DO NOT EXCEED 100 PSI IN THE SYSTEM.

If the launcher reaches 100 PSI without launching the
bottle, carefully remove the pump and depress the valve
stem pin to relieve the pressure. Once the system is
depressurized, start over without attaching the bottle
to the riser as tightly.

5) When the pressure in the bottle is sufficient to overcome
the friction of the seal, the bottle will blast from the
launcher. Bottles can reach altitudes over 100 feet.
Safety:
• Use only with adult supervision.

• Never exceed 100 PSI in the launch system.

• Do not allow any part of the body over the 2-liter bottle
while the launch is under pressure. Serious injury can
occur if the bottle is launched into a body part.

• Keep people and pets at a safe distance.

• Use only undamaged pop bottles. Bottles with kinks or
creases may rupture under pressure.

• Fins or a nose cone may be attached, but do so using
tape or general purpose glues (Elmer's

®

). Some adhesives
like Liquid Nails

®

, Krazy Glue

®

, and hot glue can weaken
the plastic of the soda pop bottle leading to a rupture
under high pressure.