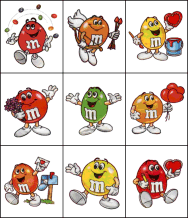 Overview:
Don't Eat Pete is a simple and fun party game for kids... although adults seem to like it, too.
Items Needed:
• A supply of M&M's® candies (medium size bag of any variety)
• A printed Game Board
How to Play:
Place one M&M in each square of the game board. Send the first child away from the game board, then have the remaining children choose which M&M will be "Pete" for the round. Have the first child come back and begin picking M&M's from the game board. As soon as the child tries to pick "Pete" everyone yells "Don't Eat Pete!" The child keeps all the M&M's picked up before trying to get Pete. Refill the game board and play again with the next child.